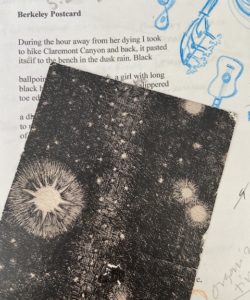 Poetry, Berkeley Postcard: After a taxing summer of challenging changes, I wanted to pause here and celebrate a few writing joys. It is so easy to trammel on by the culmination of work once it reaches the world, once it finds a home after hours of shaping, submitting, and moving on. It is so important to breathe in the good. I am so delighted to share these successes with you.
After a lifetime of playing with the tarot cards, I often see them expressed in the world around me and actively seek them out with "tarot eyes," something I will write about next on this site, a topic I cover in depth in my Heart's Compass Tarot workbook.
And that means sometimes stumbling across a "found tarot card." This poem, "Berkeley Postcard," that went up at Juked this August illustrates the way the tarot "talked back" to me, through the form of an object I discovered in the rain one day (artwork by Jon Carling); here's the back of the postcard—I wanted to leave the girl featured on the other side to your imagination.
I would later realize the two-sided art served as the final tarot card reading in a spread a friend had done to comfort me several days before my mother passed (stay tuned for essays and poetry on this topic). Thank you to Juked for publishing "Berkeley Postcard" (from a series of poems about losing my mother and how nature, tarot, and art of many forms gave comfort). I would also like to thank Zoetic Press for hosting their month long writing challenge in the summer of 2018 which gave me the focus to write this poem and the others that spilled out one after the other.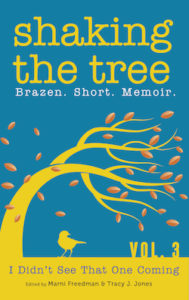 Non-fiction, "Mom's Night Out and the Trickster:" So my little memoir short drops you into the tri-part intersection of a marriage dilemma, the tarot, and a rave. I'm delighted this essay finds company in Shaking the Tree: Brazen. Short. Memoir, Volume 3,  with a fabulous roster of San Diego writers I admire. Thank you so much to the San Diego Memoir Writers Association, to our fearless editors Marni Freedman and Tracy J. Jones, and cover maven Jeniffer Thompson. You can come on out and pick up your own copy of the anthology in person at:
The Library Shop at the Downtown Library on Saturday, October 23, from 2 to 3:30 p.m.
 Library Shop at the San Diego Central Library
330 Park Blvd, San Diego, CA 92101
Registration required as this event is limited to 100 attendees: https://bit.ly/3aftMLB
Diesel, A Bookstore in Del Mar on Sunday, November 7 from 2 to 330 p.m.
Del Mar Highlands Town Center
12843 El Camino Real, Suite 104
San Diego, CA 92130
Or order your copy at Bookshop or Amazon:
And if you enjoy the book, leave us a review so we can get the word out to our San Diego Community and beyond!
Upcoming Classes:
If you would like to explore the tarot in a nurturing, creative space, drop in any time to my Tarot Journaling: A Heart's Compass Approach class offered for $12 any Monday from 12 -1 pm PST (held over zoom). We just began another full tour through the deck, starting with the suit of cups. We are only four cards in, and it is never too late to start.
Feel free to contact me with questions, or visit my Heart's Compass Tarot and Writing Facebook page. You can also join my upcoming Tarot as Inner Teacher class offered through Antioch University based on the three Major Arcana: Sun, Judgment, World; we start Saturday, October 23 at 1 pm PST over zoom.
You might also like