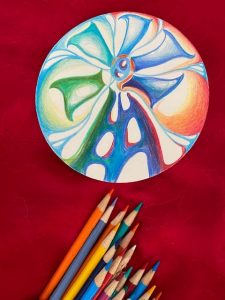 * These classes will resume after the New Year. Please use the contact form on my website if you have questions.
Do you love the tarot? Been tarot curious or eager to deepen your engagement with the symbols and imagery found in the cards? Love to express yourself through art (sketching, drawing, painting, collage or other artforms)? Join me on Tuesdays from noon to 1 pm EST for this drop-in class held over zoom devoted to the grounding and meditative practice of creating art in community using a heart's compass approach. I will provide us with versions of the tarot card of the week, a word cloud of traditional associations, and facilitate our opening discussion. We will respond to the image by improvising in art (all forms welcome) to create our own tarot improvisations like this Ace of Windmills I drew as my personal Ace of Swords. The aim is to create art based on our own personal connections and symbols that hold meaning for us as inspired by the universal energy behind each tarot card. We will break in the middle for conversation about our process. Because every tarot deck uses the four elements as a structural device, you have the opportunity to consider:
how you love (the cups cards, water)
how you act and express yourself creatively (the wands cards, fire)
how you manifest wealth and physical creations (the pentacles cards, earth)
how you use your mind, including your artistic vision (the swords cards, air)
This is a show up, color (or create in any form), and share class set in a nurturing and heart-centered environment. We will move through the tarot deck one card per week. No prior experience with the tarot necessary; all level of expresser/artist welcome. You may bring your own tarot deck to class, though I provide examples from a variety of decks (including Rider Waite Smith, Voyager collage, Inner Child, Roots of Asia, Motherpeace, Thoth, Counterculture, Daughters of the Moon, Basque, Cats, Wild Unknown, and more). Bring your art supplies of choice and let's create some new work together!
We meet Tuesdays over Zoom; cost for this drop-in class is $10.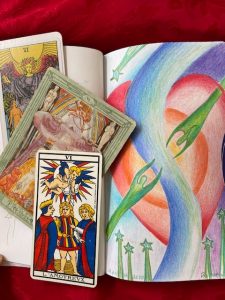 To sign up and for more information, use the contact form on my website. You can also find me on Facebook through the Heart's Compass Tarot and Writing  or on Instagram heartscompasstarot (where you can see some examples of tarot improvisations).
Images:
The Ace of Windmills at the top of this post appears in my forthcoming workbook, Heart's Compass Tarot: Discover Tarot Journaling and Create Your Own Cards (Two Fine Crows Books, February 2021). This class is based on playsheets in the workbook. And the sketch in process above and in final form here is a variation on the tarot Lovers card, which I call "Meet me over the river in dream…" based on…you guessed it… a dream of flying to meet my sweetheart over the Russian River.
Additional links of interest:
Tarot for Two, our latest podcast, New Ways to Play Daily with the Cards
You might also like