Tarot Majors Connected to Minors: The High Priestess and her Twos
I spent a handful of days at the family river house on the Russian River coloring this March beside my daughter. I didn't have my usual assortment of colors, so I worked with what I had, so even a green ink pen made into the mix. We sat drinking tea, overlooking the river that surged so high and brown due to the rain, surrounded by redwoods, the osprey, the herons, and pairs of ducks floating by. Here is my latest tarot improvisation for the High Priestess card in the tarot deck, though I call it a Forget-Me-Not Lantern, with the self facing the self in the diamond mirror in the middle. I'll try another draft with my full array of colored pencils soon.
My tour through the Majors series (offered by Antioch University's Continuing Education program) continues this coming Sunday, April 23; we meet from 1-2:30 pm PST over zoom. We just finished six weeks with the Magician, and now we turn our gaze to the High Priestess. We will explore how the High Priestess, Major Arcanum II, balances inner messages with outer expression and action by looking at the four Minor Arcana Twos in the tarot deck.
How do we find kindred hearts and share our love and trust on equal footing (Two of Cups)?
How do we find the balance point for our will when in collaboration or conflict with another person or one or more of our own passions (Two of Wands)?
How do we arrive at a truce point when taking into consideration two ideas or two minds committed to clarity (Two of Swords)?
How do we balance our soul gold and our physical need to earn (Two of Disks) and withstand the process of inner and outer growth?
These are the kinds of in-depth questions we will address in writing and discussion. You'll learn a method for tarot journaling and a handful of other simple tools designed to help you begin and deepen your relationship to tarot. You'll have the optional opportunity to create a personal tarot card using your own personal symbols that resonate for you. For a look at our process and the range of art and writing these courses create, watch our latest harvest of creativity, A Tarot Garden of Ancestor Verses. Sign up here for Sunday's High Priestess six-week class.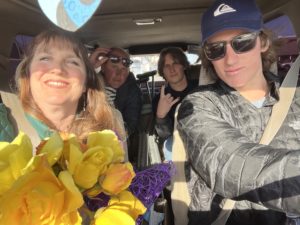 Reflections on Author of the Month Presentation
 I think every child wishes for an angel to carry hard things for their parents. –Remarks after reading the poem, "Firstborn," 7th of April Author Presentation 2023
 April pushed me out of quiet quarantine and into a room on the ninth floor of the San Diego Central Public Library…my favorite room…Shiley Special Events Suite, where we watched the afternoon sky turn dusky rose with sunset. All thanks to a beautiful invitation from Friends of the Library to read from my memoir-in-poems, The Fool in the Corn as April's co-author of the month with Leslie Ferguson (author of the haunting and powerful memoir, When I Was Her Daughter).We worked during the month of March to dovetail our reading selections and prepare our presentation about how writing about difficult truths and traumas leads to healing.
Ferguson's multi-award-winning debut memoir, When I Was Her Daughter, tells her story of madness, loss, and survival as a foster kid in the 1980s. My poetry collection, The Fool in the Corn, evokes the harsh realities of my childhood in a Midwestern commune, coming of age in a small town on the Russian River in California, and navigating the difficult years of marriage and motherhood, and loss of my own mother to cancer.
While my family is often quietly aware of my life as a writer (the closed bedroom door behind which I teach writing classes on zoom, the kitchen table littered with books, the occasional week of absence I take to write with my writing groups), it was delightful to have my sons and husband present for the public presentation. To have them hear the poetry out loud, to be Poet and Mom-at-helm.
Here are a few of the takeaway remarks from my part of the presentation paired with the poems I read from The Fool in the Corn:
I think every child wishes for an angel to carry hard things for their parents. –Firstborn
During the most difficult times in my life, there were helpers nearby, even if I didn't see or recognize them at the time –Eva, Our Sitter
Many of us live with one foot in the past and one in the present; having them come together through writing about the past is powerful–Letter to the Queen of Swords
As I revised and recorded my poems about the past on my phone, the sounds of the now mingled in the recordings…my youngest son's skateboard rounding the garage, my middle son's voice singing a song he wrote with his band…as if to say….see, look! You made it…Look at what's here…your family…–Dropping in the Eight
Once again, I express my gratitude to my publisher and editors, Ruth Thompson and Don Mitchell of Saddle Road Press, for believing in my poetry and for publishing my work. And gratitude to the community of writers I call heart home in San Diego and in far corners of the country (the flamingos, you know who you are). Thank you for the beautiful reviews and flow of incoming love.
Links of Interest:
Four minutes with poet Tania Pryputniewicz, The Fool in the Corn (Saddle Road Press, 2022), speaking about the book's title, context of the collection, and t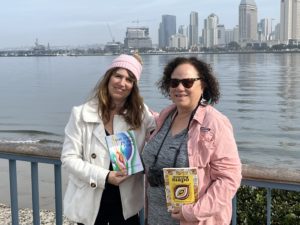 he healing journey from anger to forgiveness and humor. In conversation with poet Penina Ava Taesali (author of Sourcing Siapo, ala press 2016).  Watch here:
You might also like