*Due to the ongoing pandemic, these classes are held virtually over zoom.
*Course on hiatus at present
Tarot Journaling: A Heart's Compass Approach 
If you would love to develop a relationship to the tarot by journaling weekly, join this ongoing Monday drop-in writing group that meets from noon to 1 p.m. at San Diego Writers, Ink (Liberty Station).  *We start a new cycle, beginning with the Ace of Cups, on Monday, September 27, 2021. Journaling keeps us connected to a regular rhythm of listening to our hearts and minds. When you add tarot to that practice as a source of inspiration, you enter a vivid landscape of images, symbols, depicted scenarios, people cards, and archetypal energies.
Because every tarot deck also uses the four elements as a structural device, you have the opportunity to consider how you love (the cups cards), how you express yourself creatively (the fire cards), how you develop your physical prowess or manifest wealth (the earth cards), and how you use your mind, including your writing skills (the air cards). And you can point the arrow of your journaling inquiry using the tarot back into the past (experiences you've already lived in relation to the tarot card) or into the present (what you see in your present life that mirrors this card) or even peek into the future (what you wish or intuit this card to be saying about tomorrow's dreams for your life).
We will show up, write, and share in in a nurturing and heart-centered environment. We will move through the tarot deck one card per week based on a method of tarot journaling offered in the Heart's Compass Tarot workbook (*purchase of book not required). No prior experience with the tarot necessary; all level of writing welcome. You may bring your own tarot deck, though the instructor will provide examples from a variety of decks (including Rider Waite Smith, Voyager, Inner Child, Roots of Asia, Motherpeace, Thoth, Daughters of the Moon, Basque, Vindur, Lightseers, Emily Dickinson, Cats, Wild Unknown, Shadow of Oz, and more).
Spending time in a core group of other tarot curious enthusiasts creates a special connection; I am grateful to my first group of tarot "graduates" and ongoing participants for their perseverance and for their comments below which give you a window into our process. Bring a friend or two and join the new group that is forming now.
Cost is $12. *Full course description for the class is here at San Diego Writers, Ink website, where you can sign up: Tarot Journaling: A Heart's Compass Approach.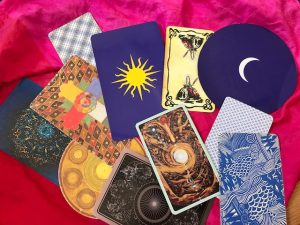 Tarot Journaling Testimonials:
Engaging weekly with every Tarot card has brought me deeper insight not only into my life, but the lives of the characters in my plays. The Hanged Man showed me how an opposite perspective can illuminate the truth for a character investigating victory and loss. The Three of Swords revealed the pain that can transform a character's sorrow into growth. Learning about Tarot imagery and symbolism helped me articulate the wants and needs of my characters.
My time in Tarot Journaling class was a unique and special opportunity to not only learn about the Tarot, but to experience the intelligent, beautiful, and heart-centered writing and teaching of Tania Pryputniewicz. In a kind and supportive manner, Tania illuminates how the Tarot brings meaning to our writing and lives.
 ~Thelma Virata de Castro, Playwright
I've always enjoyed writing to visual prompts and these weekly sessions were just right for me. They expanded my Tarot knowledge, kept me grounded, and my pen to page. Many deep insights and surprises flourished. Tania's warmth and the group member's openheartedness will be with me forever.
 ~Jill G. Hall, author of the award-winning Anne McFarland Series
In Tania's Tarot journaling class, exploring tarot becomes a joy and a playground. We were entirely free to write about anything at all… even nothing at all. Tania is respectful of each voice.
 When I began, I did not plan to share my writings. I'm glad I did. Through that engagement, I saw and heard my way of thinking, feeling and relating to world. And I noticed in that process, consciousness opened to growth.  A desire to be able to express more authentically was waking up too.
 Somehow the safe and relaxed environment of Tania's class allowed me to explore in new ways. In the light fluid space, it was okay to share messy half-baked ideas. As I did, I began to sense my uniqueness, and everyone else's too. And to be part of a community of shared understandings. It was a lovely group.
The card image each week provided a focus. For me, a personal relationship with the Tarot cards, in and beyond the generally given descriptions, was emerging. All the fragmented thoughts I may have on a subject often seemed to weave together into a meaning that I could then experience. And through hearing each other's responses, it became that much richer. And that shifted my consciousness.  
Lastly, this little tarot journaling class added a subtle depth to the whole week. Events become an active conversation — more nuanced and awake. It seemed that my perceptions and interactions in the world become more creative. 
signed ~ "B", san diego ca
Related links:
My longtime tarot buddy Mary Allen joined me on September 14, 2021, to talk about our 30-year tarot and writing friendship. We also read from our essays in the "Tarot for Two"chapter in the Heart's Compass Tarot Workbook and shared our process for creating your own "Tarot for Two" companionship. Tarot journaling class creates this kind of connection in a group setting. View here on Youtube: Tarot for Two with Mary Allen and Tania Pryputniewicz
Three of Cups: Three Views of Marriage, up at San Diego Writers, Ink. Here is an entry from one of our tarot journaling sessions. You'll also find a writing prompt based on the three of cups at the end of the post.
More from Tania's students about Tarot writing adventures:
As a published poet whose writing has plumbed the depths of the symbolic world underpinning the Tarot, and as an illuminating guide and teacher to their archetypal keys, there are few, if any, other mentors of Tania's calibre whose call to follow the threads of meaning will carry you to the spaces within where you have long yearned to go. I recently took Tania's class on the Wheel of Archetypal Selves, and was amazed each week not just at Tania's deeply intuitive responses to my work, but even more so at the places and levels of inner understanding to which she led me. Tania teaches as if she is transporting her students on a magic carpet through the landscape of the Tarot. I cannot recommend her classes highly enough! ~Edith O'Nuallain, Ireland
I've taken all of Tania Pryputniewicz's Tarot classes (and two of her blogging classes) and her course materials are always stimulating and inspiring. I've learned to think about the Tarot in a different way thanks to Tania's writing exercises. Tania always makes very insightful and helpful comments. It's a great dialogue—we've learned together. I've learned so much about the Tarot, and about myself through this class. I think some people might be put off by the idea of working with the Tarot, but Tania connects the cards to life and we've had such great conversations about life and love and more as we've worked through the major arcana. ~Mary C., Pine CO
Tania Pryputniewicz's knowledge of the tarot and writing and combining the two is incredible. The exercises she sends and the feedback are always right on target and she provides additional exercises for certain topics (as they arise). I still re-read some of her feedback for inspiration. ~Lynn W., Irving TX
I loved the materials Tania Pryputniewicz presented and the responses she gave to what I managed to write…I LOVED the materials and the instructor. I will come back to them for some time and they will continue to inspire and inform my writing. ~Marsha P., Bala Cynwyd PA
You might also like