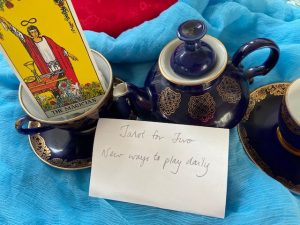 *Post event link to YouTube recording of the event: Tarot for Two: Death Card Essays by Mary and Tania (discussion, reading, Q & A)
Are you tarot curious? Have you wanted to wade into tarot's waters, but are not so sure about stepping in alone? Do you have a friend, a kindred spirit, you'd like to pair up with to begin a tarot adventure? Or maybe you are a long time tarot enthusiast; here's a new way to deepen your exploration. Come find out more about this idea with a tarot muse (yours truly, Tania) and her tarot buddy of over twenty years, Mary Allen on Tuesday, September 14, at 4 pm PST.
In celebration of the publication of Heart's Compass Tarot: Discover Tarot Journaling and Create Your Own Cards, two longtime tarot buddies, Mary Allen and Tania Pryputniewicz, read from their essays in the "Tarot for Two" chapter based on a process of working with the cards they have used for years. The reading includes example cards and discussion of process, followed by Q and A.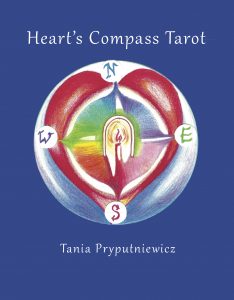 The Heart's Compass approach invites you to begin or deepen not only your relationship with tarot but with your own inner workings while providing an image-rich focus for a dynamic, ongoing dialogue between you and potentially, a tarot companion.
Free, open to the public, and held over zoom on Tuesday, September 14 at 4 pm PST.
Register to join the zoom call through SDWI here:
Heart's Compass Tarot: Tarot for Two with Mary and Tania
Mary Allen is the author of The Rooms of Heaven, published by Alfred A. Knopf and Vintage Books.   She received a National Endowment for the Arts grant in 2002. Her work has appeared in Poets & Writers, Tiferet, Real Simple, Library Journal, CNN On-line, and in the anthology If I Don't Make It, I Love You: Survivors in the Aftermath of School Shootings. She has an MFA from the Iowa Writers' Workshop and has taught in the University of Iowa Summer Writing Festival.  She is a full-time writing coach.
Tania and Mary
You might also like