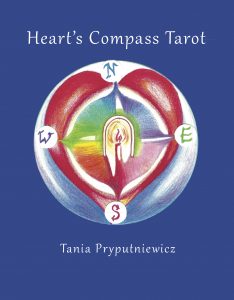 *Join us for the Facebook Live Event for Heart's Compass Tarot at 1 pm PST, Valentines Day. The event is free and open to the public. 
I am elated to share the cover of Heart's Compass Tarot: Discover Tarot Journaling and Create Your Own Cards, (now available for pre-order at Bookshop) forthcoming from Two Fine Crows Books, February 14, 2021 (cover design, Don Mitchell). How fitting that this labor of love will take flight on Valentine's Day, offering within its pages a way to honor the one true Valentine we often overlook, the self.  It is my deepest wish that Heart's Compass Tarot help you use the tarot as a joyful compass to navigate life's trials and triumphs while forging a fertile connection to your inner self.
This workbook distills what I've learned in my twenty-seven years of engaging with tarot: first as a means for personal growth and discovery, then as a tarot reader, and finally as a tarot muse and teacher of tarot-inspired writing and art courses. After experiencing firsthand the ways tarot could deepen an understanding of past patterns, present circumstances, and help guide choices aligned with life dreams, I wanted to share my love for the tarot with others and create a roadmap for developing an intimate, personal relationship with the cards regardless of the deck being used as a foundation for discovering one's personal symbols to align with life dreams and spark new creative work.
Heart's Compass Tarot presents in-depth tarot journaling prompts and colorful examples of student cards with accompanying process revelations as well as layouts and exercises designed to help you explore your relationship to life itself, your family, and yourself. While you'll learn a heart's compass approach to use for the entire deck, six deep dive chapters help you discover the inner workings of the Fool, the four Aces, and Magician. These chapters feature vibrant artwork, poetry, and process introspection by Gillian Barlow, Carrie Nassif, and Lisa Rizzo. The workbook also includes a selection of tarot inspired writing and poetry by Mary Allen, Annie Finch, Tanya Ko Hong, Marianela Madranelo, Tanya McDonald, Rachel Pollack, Christine Stewart-Nuñez, and ruth weiss.
My gratitude goes to Ruth Thompson and Don Mitchell at Saddle Road Press (and the new imprint, Two Fine Crows Books) for their savvy, love, and support, and for giving me a reason to keep writing, to keep seeking solace and hope, in a year that challenged all of us—all over the planet—to strive to find ways to love anew, sunrise by sunrise.
Advance Praise:
Heart's Compass Tarot helps readers discover their inner voice, the oracle within, and how the archetypes, symbols and personalities found in the tarot are guideposts for our life's journey. Bring your open heart and allow this workbook to show you how to uncover, befriend, and transform the stories we tell ourselves. The Heart's Compass Tarot workbook will help you fall in love with yourself again and again.   —Jamie Della, author of The Book of Spells
I have to admit that I am a tarot dabbler. I'm fascinated by it, always amazed by the revelations I have when I do work with the cards, but I have never been able to develop the sustained practice that would bring me more familiarity and thus, more benefit from the tarot. That is, until now. After reading the Heart's Compass Tarot workbook I am confident that I will become a regular practitioner. I found it refreshing that the author did not dictate which deck should be used, or that one must stick to the descriptions of what the cards supposedly mean in the interpretation books that come with the cards. Readers can feel free to experience the cards in their own unique ways and are encouraged to create their own decks and instructions for interpretation. Symbols may be universal, but the interpretations can sometimes be uniquely personal. I will be using this workbook for a long time and anticipate that I will work through it multiple times over the coming years.  —Mickey Eliason, author of Reflecting on the Teaching of Angeles Arrien: From A to Z
In addition to chapters on interpreting cards and card spreads, Heart's Compass offers ways to use tarot symbolism to explore numerous creative processes including art, poetry and improvisation. Of particular value is the author's guidance to successful tarot analysis including the creation of personal cards that can embody deeply meaningful discoveries and reflections. If the tarot is a journey of the soul, then Heart's Compass Tarot is its indispensable guide.  —William Haigwood, author and creator of The Counterculture Tarot
Tania Pryputniewicz's Heart's Compass Tarot is a generous and joyful offering for anyone interested in, curious about, or immersed in the secrets, mystery and magic of the tarot. "You are the oracle," Tania writes and then, throughout this beautiful workbook, shares with us creative and imaginative paths into working with the tarot and creating our own tarot decks. "The first rule of the heart's compass approach is self-love and compassion," and this book resonates with those very qualities. I can't wait to begin the work.  —Judy Reeves, author of  A Writer's Book of Days
Upcoming Classes
Offered through Antioch University's Continuing Education Program:
Tarot as Inner Teacher: Meet the Major Arcana (Fool, Magician, High Priestess, Empress)
Five-part webinar series: January 9, 16, 23, 30 and Feb 6
1 pm PST/4 pm EST
Offered through San Diego Writers, Ink on Mondays at noon PST:
Tarot Journaling: A Heart's Compass Approach
Related blogpost up at inspiration2publication
You might also like