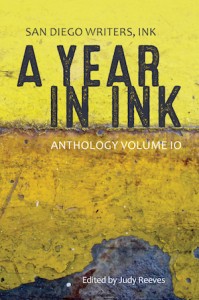 A Year in Ink, Volume Ten: Launch Party
Along with 39 other authors, I will be reading work coming out in the San Diego Writers, Ink Anthology (this time a poem about skateboarding, "Dropping in the Eight").
Come on out and pick up your own copy of the anthology and support our local writing community in San Diego. Join Editor Judy Reeves and Team Ink for a celebration including food, drink, and readings from the anthology.
$5 suggested donation at the door or an unopened bottle of wine.
Old Town (Cygnet) Theater
Tuesday June 13: 7-9 pm
Poetry Postcards at Beyond Baroque, Venice California: Sunday April 30th, 1-4 p.m.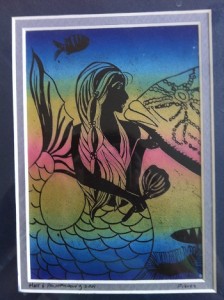 I'm honored that five of my centos, "A Thank You Letter to Barack Obama," "An Open Letter to Donald Trump, " "An Iris for Hillary," "Emerald Dream, For Michelle Obama," and "Ghost Ribs, For Melania Trump" have been chosen by Nicelle Davis for an event in Venice, "Poetry Postcards at Beyond Baroque: write your political concerns to representatives." The event is hosted by Nicelle Davis, Armine Iknadossian, and Quentin Ring. They print up the poems, provide a space for folks to gather, address postcards, pen messages to representatives, and leave us some time at the end to read poems aloud. Here's the Facebook link to "Poetry postcards at Beyond Baroque."
In case you can't make it to be with us this weekend,  I've recorded three of the centos:
Cento Thank you Letter to Obama as an MP3.
Cento Open Letter to Trump as an MP3.
Cento An Iris for Hillary as an MP3.
Here's a link to a blogpost about the process of writing centos: Poetry Meets Tarot Synchronicity: Crafting Centos and Leaning on Your Beloveds.
Ten Thousand Waves
I'll be participating as a one of many readers in the Ten Thousand Waves reading at the Museum of Women in Liberty Station, organized by Katya Williamson; I hope you'll join us either to read or to listen! Here's the description from the flier.
Ten Thousand Waves: Come join us for an afternoon of original prose and poetry. We hope to inspire, raise awareness, comfort, entertain, and enjoy each other's company.
4:30-6:30 on May 13th
Women's Museum, Liberty Station
2730 Historic Decatur Road, Barracks 16
92106, SD
Admission: $5
Prior Events: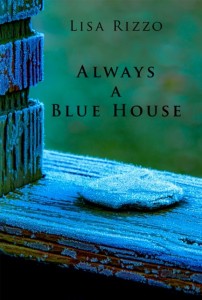 Everyday Pilgrimages: Metaphors, Questions, and Omens
A Joint Poetry Workshop co-taught by Lisa Rizzo and Tania Pryputniewicz
Saturday March 4th, 2017
10-12 am at San Diego Writers, Ink
$30 fee (members of SDWI) or $36 non-member includes copy of Lisa Rizzo's "Always a Blue House"
In Always a Blue House (Saddle Road Press, December 2016), Lisa Rizzo's poems range between the earthbound house of human perception and the limitless plane of soul questions elicited by opening one's heart to the blue angel of poetry. Whether she is listening in the depths of the Oregon Caves for "what had not yet been unearthed" or asking of her readers, "will you follow me?" Rizzo's questions linger: "What gifts do I give?" "Does faith remain when memory is lost?" In November Butterfly, Tania Pryputniewicz introduces the reader to the lives of iconic women. Through personae poems, she explores metaphors and offers similar invitations:  "Let us begin with the worm / its translucent omen…"
Join both poets for a two-hour workshop exploring the ways we can use metaphors, questions, and omens to write the poetry of our lives. Bring pencil and paper and write with us. Class time will allow for a close look at a few poems from each writer's collection as a starting point for creating your own work, writing time, and sharing time. Course fee includes a copy of Rizzo's Always a Blue House.
Lisa Rizzo is the author of Always a Blue House (Saddle Road Press, 2016) and the chapbook, In the Poem an Ocean (Big Table Publishing, 2011).  Her work has also appeared in a variety of journals and anthologies such as Calyx Journal, Naugatuck River Review, and DoveTales "Nature" An International Journal of the Arts. Two of her poems received 1st and 2nd prizes in the 2011 Maggi H. Meyer Poetry Prize competition. Having spent 23 years teaching middle school language arts, she is now an instructional coach, working with teachers. She lives in the San Francisco Bay Area and can be reached online at www.lisarizzopoetry.com.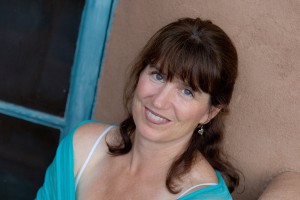 Tania Pryputniewicz is a co-founding blogger for Tarot for Two and Mother Writer Mentor. Saddle Road Press published her debut poetry collection, November Butterfly, in 2014. Poems are forthcoming in A Year In Ink, The Chiron Review, Everyday Haiku Anthology, Nimrod International Journal, and Whale Road Review. She teaches a monthly poetry workshop for San Diego Writers, Ink and lives in Coronado, California with her husband, three children, blue-eyed Husky, and a portly housecat named Luna. She can be found online at www.taniapryputniewicz.com.
Four-Eyed Frog Flamingo Meet and Greet
Come out to meet the Flamingos… Saturday June 18, 4 p.m. at Four-Eyed Frog Books, 39138 Ocean Drive, Gualala. We are a group of nine women writers, all published and recipients of literary awards.
We come every year to Sea Ranch to share writing, good food, great wine, laughter, and a deep love of Gualala's stunning coastal beauty.
This Meet and Greet conversation gives us a chance to discuss how we met, to consider what makes a writers group a success, and brainstorm with you how we might serve the local writing community with future workshops and events.
We hope to see you there!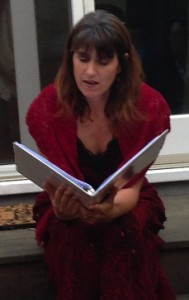 November Butterfly:
I am booking "Writing Past Fear: Free Your Butterfly" Workshops and Readings for my first poetry collection, November Butterfly, Saddle Road Press, 2014 (most recent: Review of November Butterfly at Tweetspeak Poetry by Glynn Young,  Review of November Butterfly at Damfino Press by Lauren Gordon and Review of November Butterfly at TCJWW by Jen Teeter-Moore (The California Journal of Women Writers) and Review of November Butterfly at The Mom Egg, by Anne Marie Fowler). Because I am organizing and funding the book tour solo, I would love ideas about venues; if you feel your city would support a workshop like the one described below, please contact me. I am also, as a lifelong teacher, interested in visiting college English classrooms to consider women artists and writers in their roles as mentors (as supported by the book's focus on iconic women and their relationship to thriving).
Cities for which I am actively working on booking events include Albuquerque, Los Angeles, San Diego, Seattle, Sacramento, the Bay Area, Chicago, and Iowa City.
FILM SCREENING OF POETRY MOVIES: Guerneville Public Library: 14107 Armstrong Woods Rd, Guerneville, CA 95446. Wednesday, October 14. 6:30-7:30 p.m. Five poetry movies: "She Dressed in a Hurry, Lady Di," "Amelia," "Mordred's Dream," "Thumbelina," "The Corridor, Guinevere." Photographer Robyn Beattie will read the poems from November Butterfly, show the corresponding movies, and field questions about her images and her creative process.
Attended AROHO's 2015 Retreat as the Marg Chandler Fellow and taught mentor writing workshop based on poems in November Butterfly in August of 2015. Offered poetry consults in conjunction with Tarot Reading (Tarot as Poet's Mirror).
READING and BOOK SIGNING: Sunday, August 9th, 2:00 p.m Garcia Books, 376 Garcia Street, Santa Fe with poets Barbara Rockman and Robyn Hunt.
BOOK SIGNING: March 14th, Coronado Public Library, Winn Room, from 4-6 p.m. I will have copies of November Butterfly for sale and would love to sign a copy for you. Come out and check out all of us local authors; the Winn Room will be buzzing with many of us eager to meet and speak with you.
POETRY MOVIES, READING, ARTSHOW: March 29th, 2015 event in Northern California (hosted by The Occidental Center for the Arts)  showcasing a handful of the poetry movies featuring the poems in November Butterfly. Original works of art on display at the event which will included showing the movies, a reading and Q and A.
A NIGHT AT THE LIBRARY: A CELEBRATION OF LOCAL AUTHORS
Presented by Friends of the Coronado Library
Friday, February 6, 2015 6:00pm to 9:00pm
640 Orange Ave
$50.00/person includes food, wine, beer and $10 voucher for Second Hand Prose bookstore
To purchase tickets send your check with name, phone number and email address to: Friends of the Coronado Library, PO Box 180172, Coronado CA 92178-0172 or visit www.CoronadoFOL.org
November 1, 2014
San Diego Book Launch: "Writing Past Fear: Free Your Butterfly" Workshop and Reading
San Diego Writers, Ink
The Inkspot

2:30-4:30
What story have you kept in the cocoon? What would happen if you wrote it out, just for you? In this dual focus workshop, we'll consider our heroes, both famous and family, who have inspired us. Using them as inspiration, we'll write our cocooned core stories. We'll also explore the butterfly and hero metaphors via colored pencils and paper cutouts. Art supplies provided. No prior writing experience necessary.
2:30-3:30 Writing Workshop ($30 fee includes copy of the poetry collection, November Butterfly)
3:30-4:30: Reading and book signing $5 suggested donation.
Sign up here for the workshop at San Diego Writers, Ink
November 10, 2014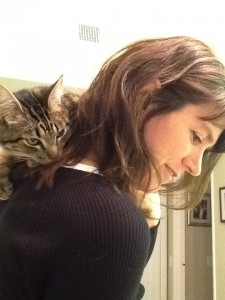 Sonoma County Book Launch: "Writing Past Fear: Free Your Butterfly" Workshop and Reading
Sonoma County's Coffee Catz holds a special place in my heart; not only did I get to spend Friday mornings for a few hours writing when my children were babies (Grandpa and Grandma took over every week so I could sneak away), but we even hosted the baby shower for my firstborn in the back room behind the velvet curtain. Owner Debbie chatted me sweetly all through my first pregnancy and the next.  I am so thrilled to return to use that back room to celebrate November Butterfly's release. Come out and write with me for an hour; we will follow our writing workshop with a reading and book signing. See the "Free Your Butterfly" description above. No prior writing or art experience needed.
6761 Sebastopol Ave
Sebastopol, CA
95472
2:00-3:00: Writing workshop (Free Your Butterfly, description above); $30 includes hour long workshop and a copy of the poetry collection, November Butterfly. Please contact me to pre-register or sign up at the door.
3:00-4:00: Reading and book signing; free of charge.
November 11, 2014
Bay Area Reading and Book Signing for the poetry collection, November Butterfly: I'll be reading with Saddle Road Press sisters Michelle Wing and Ruth Thompson
Moe's Books, Berkeley
2476 Telegraph Ave
Berkeley, CA 94704
7:30 p.m.
More Information about the poetry collection November Butterfly:
Available on Amazon in paperback ($13.50) or Kindle ($7.99) editions.
Or support Saddle Road Press by ordering directly through my Contact page (send me a request) or by coming to one of my  Events  (workshops/readings) to pick up a copy in person.
Early praise:
Bhanu Kapil, author of "The Vertical Interrogation of Strangers":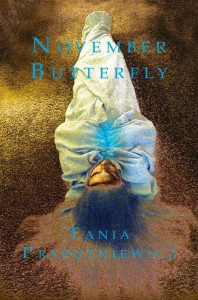 In which a "gorget" sparkles at the throat.  Or: a rose, like a body, might be "resurrected."  Tania Pryputniewicz has written a book where these things become possible.  Visible. Reading, we enter a world in which Guinevere loves and does not love; we glimpse her as a girl wearing "pale slippers like falcon hoods,/ so lethal, so light."  Later, she is a woman, shimmering, conflicted, drawn to a great, obliterating love.  Will she "burn blue"?  We watch her at the brink of lives and watch her choose.  
Authors Note: Tania Pryputniewicz on November Butterfly, hosted by The Mom Egg
Blogpost Revising Guinevere, Ten Writers Transforming Rape, or When Trees Mattered More Than Boys
Cover photo: Robyn Beattie. Cover Design: Don Mitchell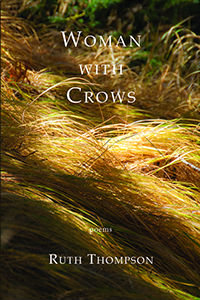 Praise for Ruth Thompson's "Woman with Crows" from the Saddle Road Press website:
Philip Terman, author of "The Torah Garden":
"Ruth Thompson's expansive voice is equally attuned to the swamp of the earth and to the ghost-filled haunts of the spirit worlds this rich collection embodies. Thompson's range of reference – from Buddhist ghosts to Grimm fairy tales to Sumerian and Greek goddesses to personal and ancestral tales and legends – is wide and knowing, yet always transformed by a lived and experienced imagination, in a language that is wistful in its laments, sensual in its celebrations. These courageous poems journey the dark and beautiful mysteries and bravely offer, in a lyric that is fiercely wild and refreshingly independent, deeply earned wisdoms."
Review of Woman with Crows at The California Journal of Women Writers, by Claire Farley
Praise for Michelle Wing's "Body on the Wall" from the Saddle Road Press website:
Barbara Rockman, author of "Sting and Nest":
"My garden pleads for one more dance," writes Michelle Wing. This brave debut collection inhabits landscapes of violence and trauma, but its triumph resides in compassionate and unflinching poems that resound with insight into the resilience of ordinary lives. These poems emanate from the body of a woman eager to heal and be awed by nature's abundance, to be embraced by human and animal love. Hers are transcendent songs of survival. Rich in metaphor, packing a punch to the gut and heart, Wing's work is an outpouring of instruction and inspiration for any reader longing to deeply inhale our fragile, dangerous and astounding world.

Interview with Michelle Wing at The California Journal of Women Writers, conducted by Erika Rothberg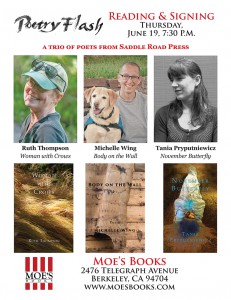 .
Poster Design: Michelle Wing
Poster Author Photo of Tania: Robyn Beattie
Author photo at top of this post: Lisa Rizzo