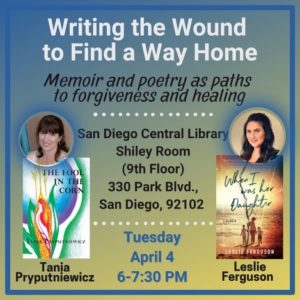 What do childhoods lived under the duress of the foster care system, an Illinois commune, and parental trauma have in common? Find out at our April Author of the Month presentation, "Writing the Wound to find a Way Home: Memoir and Poetry as Paths to Forgiveness and Healing" tomorrow night, Tuesday, April 4 at 6 pm.
I'm honored to be co-presenting with Leslie Ferguson, author of the powerful and beautifully written memoir, When I Was Her Daughter (Acorn Press, 2021) at the San Diego Central Pubic Library. I'll be reading from my memoir-in-poems, The Fool in the Corn (Saddle Road Press, 2022). We look forward to sharing our journey and our light followed by refreshments and a raffle (copies of our books and some consults). We meet in the Shiley Special Events Room at the top of the world (well….the ninth floor) with its beautiful view of the city and Blue Bridge and if we are lucky, enough wind to make the architecture overhead sing. Free and open to the public; please register here and bring a friend: April Author of the Month Ferguson and Pryputniewicz and be sure to select the Central library!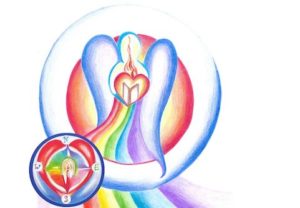 In other spring-rain-rainbow fun, we have just started the April Heart's Compass 30 Day Tarot Poetry Challenge…and it is just what it sounds like: you learn about tarot and poetry while creating new writing (daily emails with tarot card images and prompts delivered to your inbox and optional Friday zoom writing sessions). I give you example poems that match the energy of the tarot card either through the form or the theme of the poem to help you connect to the tarot card under study. And you'll see images from a variety of tarot decks (and of course you can use your own deck/s too). We just started April 1st so there's still time to join our beautiful group for a joyful, playful, gentle way to connect to tarot, poetry, yourself, and kindred hearts.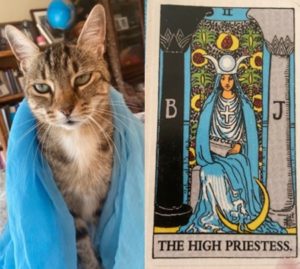 So we have a new kitten, Quill…she's been getting a lot of press on IG and Facebook, so I decided to feature our darling mainstay Luna, my original tarot cat. I caught this photo one day when she was rifling through my tarot silks and sat up…the posed part of this picture was me crouching down to capture that blue globe sitting on the shelf behind…so it could act as her inadvertent "blue moon" to mirror the Rider Waite Smith moon crown.
How Tarot Majors Connect to the Minors: Soul Cards and Their Lessons on the Ground. Course 2: The High Priestess. In this six-week series, we explore the High Priestess through the lens of what that soul energy means on the ground, in our daily lives, by looking at the minors, Two of Cups, Two of Wands, Two of Swords, and Two of Disks. We examine the ways we have the opportunity to listen to inner messages and balance and translate them into action in the outer world around us.
How do we find kindred hearts and share our love and trust on equal footing (Two of Cups)? How do we find the balance point for  our will when in collaboration or conflict with another person or one or more of our own passions (Two of Wands)? How do we arrive at a truce point when taking into consideration two ideas or two minds committed to clarity (Two of Swords)? How do we balance our soul gold and our physical need to earn (Two of Disks) and withstand the process of inner and outer growth? We use a Heart's Compass approach to journaling to create writing across forms with the option of making personal tarot card art.
Starts April 23-May 28
Sundays over zoom, 1-2:30 pm PST / 4-5:30 pm EST
$99
More information and registration here for Course 2: The High Priestess. Here's a lovely presentation in which you meet four of my kindred tarot enthusiasts (students I have been blessed to work with for several years now) in our post-class harvest event: A Tarot Garden of Ancestor Verses.  We share writing and and art we made last year in our Using Tarot Court Cards to Explore Ancestry course. This video gives you a clear idea of the kind of work we do in our classes.
You might also like