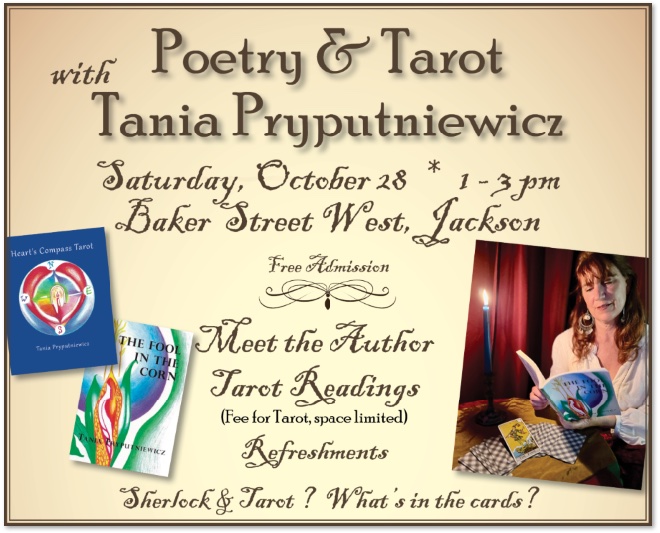 Sherlock Holmes Through A Tarot Lens: Tea, Tarot, and Poetry:
Baker Street West promises "7 tiny shoppes with a Sherlockian twist…"  a magical space in which I'm so honored to come and explore the connection to the mystery of tarot, poetry, and Sherlock Holmes. Baker Street West nurtures the spirit of Sherlock through ambiance ("step into Victorian London," the website invites), "Character-guided tours of a museum-quality re-creation of Holmes' flat, 221B Baker Street," Mystery Story dramatic readings with characters straight out of the tales, and more.
For this event, Sherlock Holmes Through a Tarot Lens, as poet and tarot muse, I will reveal the cards in the tarot deck that correspond to Sherlock Holmes, Doc Watson, and Mrs. Hudson in a presentation celebrating my  memoir-in poems, The Fool in the Corn, and my tarot workbook, Heart's Compass Tarot.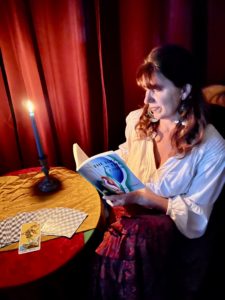 During the first hour you'll learn a bit about the tarot in relation to Sherlock Holmes, listen to poetry about my formative years on an Illinois commune and how it lead to my interest in tarot, and discover some clues for illuminating the mystery of you. After Q&A, the second hour will be reserved for ten minute three-card tarot readings for a limited number of interested parties. Tarot readings offered for free with purchase of either The Fool in the Corn poetry collection or Heart's Compass Tarot workbook. Readings offered on a first come, first served basis.
Held at Baker Street West
1-3 pm
Saturday October 28
204 Main Street
Jackson, CA, 95642 
(Second Floor of Hein and Company Bookstore)
Additional notes:
In planning for this event earlier this spring, I was delighted to discover a tarot deck created by John Matthews with art by Wil Kinghan, The Sherlock Holmes Tarot, with accompanying book: The Sherlock Holmes Tarot: Wisdom from the First Consulting Detective (Sterling Ethos, 2014). Here on the cover is the Justice tarot card, 'Old Bailey.'
What a wonderful deck…I love the choice of pairings (characters and predicaments from the world of Sherlock Holmes), the "Holmesian wisdom" offered for each card (a direct quote from the tales), and that interpretations are offered for upright cards: "the game", as well as reversals: "the fog." Pouring tarot energies through literature  in this way lends depth to each tarot card's energy and each tale, a way to live more deeply and vicariously into both in a beautiful way. Here's a link to the deck maker's page, Hallowquest, about the deck (and a plethora of additional decks).
You might also like