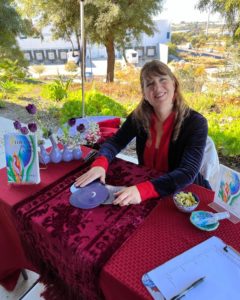 Reviews, Event News, and an Offer for You
I was so impressed by the delicacy of  [The Fool in the Corn]. Tania navigates the life/death circumstances that have formed her with both honesty and sweetness; the result is that the reader feels touched and inexplicably hopeful. I think this kind of emotional engagement with the subject matter is really only possible through poetry, and this poet approaches life, death, transcendent AND ordinary things with a reverence that simply makes me feel good.—Nicola Ranson, author of the forthcoming memoir, A Slice of Orange (Touchpoint Press, 2023)
"The Fool in the Corn" is a recursive memoir walking the reader in wonder through imagery fraught with casual danger, supernatural gifts, daydreams, a fierce love for siblings, and the comforts of the natural world.—Carrie Nassif, author of the forthcoming poetry collection lithopaedion (Finishing Line Press, 2023)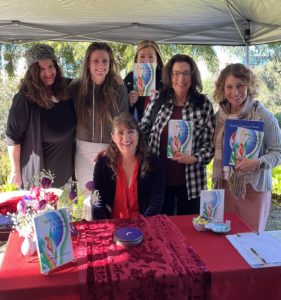 The author creates a beautiful universe that weaves the mystical with the mundane in a way that's both fully relatable and beautifully dreamlike. Being with these poems is like talking with a good friend and standing in awe of both our human connections and our ultimate mysteriousness to one another as well as to ourselves…I'd highly recommend this book to anyone who loves poetry, anyone who has struggled to re-establish their own spiritual identity in the wake of extreme religion (of any sort), any mother, or anyone who has lost a parent.—Alex Martin
Launch News
The Fool in the Corn is here; we had a beautiful launch day at LEAF in Carlsbad (Live Enlightened and Free, a gorgeous store full of metaphysical gifts and beautiful books). If you weren't able to make it that day, the store has copies of the book as well as my Heart's Compass Tarot workbook. I loved giving away three-card readings as my gratitude for purchase of the book. I've included a handful of my favorite photos from that day; I wish to thank especially my beautiful San Diego writing group and students: what a blessing to share Winter Equinox together. I know it was such a busy time of year. Thank you for the love and support.
Most especially, my gratitude goes to magic-maker Donna Agins for connecting me with L.E.A.F. store owner Chris Parwell and for bringing her beautiful touch (flowers! vases! pens! and more) to help me create a very special day. And my daughter Kallista for driving me and keeping me fed and watered so I could just focus on being present.
An Offer for You
For those of you too far away to attend upcoming events, I'm offering the same three-card tarot reading to you over zoom when you post a picture of yourself with your copy of my book on Instagram (@heartscompasstarot) or Facebook (www.facebook.com/heartscompasstarot/); make sure to tag me so I know and then reach out to me for your reading through instant messaging on those platforms or by using the contact form on my website. The book can be ordered everywhere books are available; here's the link to my page for The Fool in the Corn at Saddle Road Press with some options.
Latest Fool in the Corn event, Saddle Road Presents:
Diane Gilliam, author of the new novel LINNEY STEPP, and Tania Pryputniewicz, author of the new memoir-in-poems THE FOOL IN THE CORN, will read from their books and talk about writing in this first Saddle Road Press Conversation for 2023.
Sunday February 19, 2023  
3 pm PST / 6:00 pm EST  (US and Canada)
Free and open to the public
Pre-register here for the zoom link: Diane and Tania in Conversation
I absolutely adore Diane's writing, having first fallen in love with one of her poetry volumes, Kettle Bottom, after having taken a class on fairytales with her while attending a writing retreat at Ghost Ranch offered by A Room of Her Own Foundation years ago. I am so delighted we will have the chance to talk about her beautiful new novel. Praise for Linney Stepp: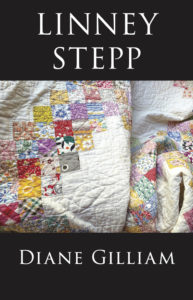 "In Linney Stepp, acclaimed poet Diane Gilliam gives us the story of a girl who breaks free from the force-field of her family to become herself. When we meet Linney, she is about to be traded for her distant cousin Robbie so that he can help her dad on the farm and she can help his mother keep an eye on Aunt Hesty, who is prone to wandering and revelations….Before this rich and profound novel is over, what they have learned in exile-how to claim their own authority-will have transformed their lives. Set in Appalachian Kentucky in the early 1900s, and illuminated by dreams, myths, and fairy tales, Linney Stepp offers its readers transformation, too. By the novel's end, Linney has learned how to say NO to what would harm her. She has grown the strength to ask what she needs to ask and say what she needs to say. Her story shows how."-George Ella Lyon, Kentucky Poet Laureate 2015-2016 and author of With a Hammer for My Heart
*You can order Linney Stepp everywhere books are available. Here's the link to Diane's Saddle Road Press page which has links to a number of options. We appreciate your support with reviews.
Related links of interest:
Interview about risk-taking and writing, process of writing The Fool in the Corn (Shoutout SoCa)
Review of The Fool in the Corn at Tweetspeak Poetry by Glynn Young
You might also like