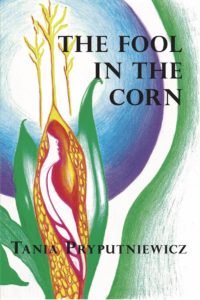 The Fool in the Corn…
is here! I'm so delighted to share it with you. Advance praise:
 In this memoir-in-poems, Tania Pryputniewicz explores family relationships, moving from her own childhood in a commune through her parents' divorce to her own marriage, parenting, and loss of her mother. She has woven corn fields and autobiography with tarot cards and mythology, and the results are riveting. 
–Katie Manning, author of Tasty Other and 28,065 Nights
I am deeply grateful to Ruth Thompson and Don Mitchell of Saddle Road Press for believing in my work. We are grateful for any support you give the small press; to that end, reviews on Amazon and Goodreads or anywhere you wish to leave one will help us get the word out. I do have ARCS (a few hard copy and of course a PDF ARC); please reach out if you would like to help us out ahead of publication on December 21, 2022. Here is the link to The Fool in the Corn, Saddle Road Press site, where you can pre-order the book from Bookshop, Amazon, Indie Bound, Powell's, or Barnes and Nobles; you can also order at your favorite bookstore.
I am also indebted to the editors and journals responsible for publishing individual poems over the years; to that end, I am taking the time to thank as many of them as possible, featuring links to the poems when I can or photos of the journals; you can follow along on IG @heartscompasstarot.
Additional Praise for The Fool in the Corn:
Look implores Tania Pryputniewicz's artfully orchestrated memoir in poems. Remember and re-imagine intone these stunning narratives. In lush imagery and exacting detail, with vulnerability, wit and wisdom, one woman's life unfolds. From confused communal girlhood, to an unpredictable father, to her parents' divorce, to maturing as poet, wife and mother, to the heartbreaking chronicle of a dying mother's journey, the riveting thread of "The Fool in the Corn," is the growing resonance of a woman's voice: tentative, tender, fierce and emboldened. In such company, we too are inspired to bring back, without apology, all that you dare.
 –Barbara Rockman, author of "to cleave," and "Sting and Nest"
From childhood in a commune, through the complexities of adulthood, marriage, motherhood to parental death, these poems travel from Illinois to California to Iowa and back to California, highlighting the mysteries of the natural world, the struggle in relationship, the sorrow in loss, the search for 'answers that can only be lived.' The poet explores the 'dark harp of the human heart,' at times the leader and caretaker, at times the 'outlier in a field of corn.' These poems invite us to look, remember, forgive, and keep faith with The Fool as the poet does, finding beauty in the ordinary and comfort in the imagination.
–Sandy Coomer – author of "The Broken Places"
Additional Links of Interest:
Here a couple of interviews I've done that reference the writing of The Fool in the Corn:
You might also like