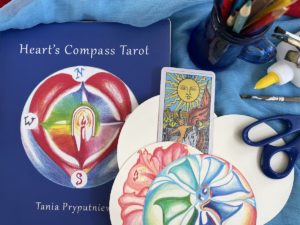 Tarot as Self-Portrait Workshop: Create a Personal Tarot Card
Chances are, if you've played with the tarot, you've been enamored by one or more of the cards in the deck, hoping a particular one will fall in one of your readings. Who doesn't love the sunflowers behind the fearless child in the Sun Card or the pomegranates flowing down the robe of the Empress in the Rider Waite Smith deck, or the purple wings of Hina, Maiden of Blades in the Daughters of the Moon deck? What's not to love about the ethereal Star card with bubble- blowing-girl outside of time, planets streaming from her bubble wand in the Roots of Asia deck? Or the bearded King of Pentacles lit by fireplace's glow in his red room, wolf at his feet in the Light Seer's deck? Countless images come to mind…but let me return to You:
If you could express the essence of any card in the tarot deck, even Be a particular card for a day, which card would you choose?
Your answer won't be the same today as tomorrow, but that's the point of this kind of sacred play! Join me to explore this question and to answer it using tarot journaling and personal tarot card creation in a heart-centered environment (and held over zoom). We will start by pulling three cards to ground our adventure, journaling to those cards and discussing them as a group, before we move into Self-Portrait exploration.
I will guide you through a process designed to help you engage with the tarot in a light-hearted but absolutely fertile way. There's no pre-class preparation necessary, but if you plan to join us, I encourage you to start now, dreaming your way into the possibilities! Ask, in meditation, or before you go to sleep: Which tarot card would I like to express in a self-portrait? Look at your tarot deck, cards face up and fanned out. Take your time looking at the cards, selecting a few you are attracted to–colors, images, and just because you like them, no reason needed–to keep out on your dresser or desk or altar if you are drawn to do so. Keep track of any answers you receive in dream and note down any insights that come your way in the days leading up to our workshop date, October 29.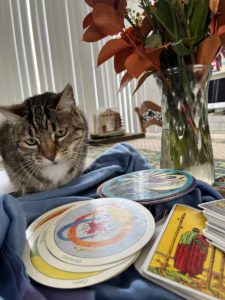 This is a show up, journal, create artwork, and share class, for which we are creating a personal tarot card as a self-portrait. To that end, I encourage you to bring art materials, paper or thicker card stock, personal photographs, magazine images if you wish to collage, and any other types of art materials you wish to use to create your card. Bring your open heart, your curiosity, and your willingness to explore. *Cats welcome; Luna overlooks three decks and their deck makers I count as foremothers, all integral to my tarot apprenticeship (Ffiona Morgan of Daughters of the Moon, Vicki Noble and Karen Vogel of Motherpeace, Patricia Colman Smith of Rider Waite Smith).
Tarot as Self-Portrait is for you if:
You are inspired by, curious about, or in love with tarot
You like to work in a nurturing environment with the support of others
You have been wanting to deepen your connection to yourself and the tarot
You'll need:
Your tarot deck and/or your favorite decks
One or more copies of photographs of yourself (to use on your personal card)
Art supplies: magazine images if you wish to collage, color pencil, paint, etc.
You'll receive:
Guidance regarding the process of connecting to the tarot
Support interpreting your three-card draw
Tarot as Self-Portrait playsheet
You'll come out of our workshop with:
A deeper connection to the tarot
An introduction to fellow tarot enthusiasts
A draft of your own personal tarot card aligned with your vision for yourself at this time
Here is a link to a short introductory video I made for you about this course:
Course Date:
Saturday, October 29, 2022
4-6 pm PST
Course Cost:
$30
Registration:
Payment of $30 accepted here through Heart's Compass Tarot (PayPal.me) link; you will receive a welcome email with more detailed information when you sign up along with your zoom invitation. Please use the contact form on this website if you would like to request additional options for payment. Course methods are based on Heart's Compass Tarot: Discover Tarot Journaling and Create Your Own Cards; purchase of the book not required to attend.
You might also like