Today's prompts were inspired by the Guinevere's Camelot section of November Butterfly (Saddle Road Press, 2014). While the Section II poems speak primarily from Guinevere's point of view, we also hear from Mordred, Arthur and Lancelot (see prompt 12, inspired by Mordred's Dream). In today's poem, The Corridor, Guinevere enjoys a moment alone with her mother in the corridor that connects their rooms; this brief stolen moment affords Guinevere a reverie on the power of connection vs. power of throne.
Write for at least twenty minutes without censor and share your exercise or any thoughts about your writing process in comments below. Or add links for us to visit along any topic line inspired by the exercise.
EVENT TONIGHT:
The Corridor, the poetry movie, along with Mordred's Dream, Amelia, Thumbelina, and She Dressed in a Hurry, Lady Di will be screened at the Guerneville Public Library, 14107 Armstrong Woods Rd. Guerneville, California this coming Wednesday, October 14 from 6:30-7:30 p.m. Robyn Beattie will read the poems, show the movies, and discuss her images and field questions regarding her photography process.
Related Links: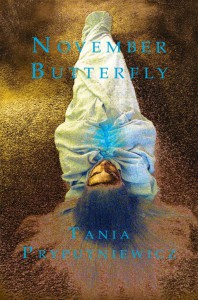 Three Questions, Interview at Extract(s) about inhabiting Guinevere in November Butterfly
Scholarly Arthurian Resources at The Camelot Project, A Robbins Library Digital Project
Interviews with Authors of Modern Arthurian Literature conducted by Raymond H. Thompson (including interviews with Margaret Atwood, Mary Stewart, Rosemary Sutcliffe, Nikolai Tolstoy, Jane Yolen, and more).
Posts on Feral Mom, Feral Writer about process of poems/poetry movies:
Revising Guinevere: Ten Writers Transforming Rape or When Trees Mattered More Than Boys
Tripping with the Girls at La Posada: Architects, Painters, and First Ladies
Photo at top of post and cover for the poetry collection, November Butterfly, by Robyn Beattie. Cover Design, Don Mitchell, Saddle Road Press.
You might also like