It's Empress Time…
Join us for a deep dive into the tarot Empress…my next six-week tarot journaling class, Tarot Journaling: Empress, starts this coming Sunday, offered through Antioch University's Continuing Education program (course start was delayed through the summer so I could tend to family health matters, and delayed again by a week, so note the new official start date: Sunday, October 8). I am delighted to see a solid group forming, with room for a couple more students.
Though we call it "Empress: Tarot Journaling," it is truly "Tarot Journeying…" that we experience in these richly intimate classes. There's a tarot deck and a tarot artist for everyone, and I share a wide variety of images and artwork each week. You are welcome to bring your own deck /s and often we inspire one another to add new decks to our growing tarot libraries. To get an idea of what we do, our vibe, and what we create, here's a video from the Tarot Ancestor series, A Tarot Garden of Ancestor Verses, in which you'll see students sharing their tarot card art and speaking about their tarot journey.
Tarot curious to the tarot savvy welcome alike, and all level of writer. We use the card of the week to explore, in writing, and in conversation, the ways we have lived or would like to live the energy of each card. By week six, we share personal tarot card art based on images we've arrived at during our writing and sharing, like the Tarot Empress card art of mine at the top of this post, figure nested inside the pomegranate as one possible version of the Empress energy, or the image below, of mother with wings, child nested below, sunflower at the heart.
Each tarot soul card (Major) has at least four corresponding cards in the daily life cards (Minors) that help show how that soul energy shows up "on the ground" in our lives. So in this course we will explore how the Empress, Major Arcanum III, nurtures herself and others across human, animal, and elemental relationships by looking at the four Minor Arcana Threes in the tarot deck.
How can we acknowledge and celebrate the friends and allies of the heart that uplift ours (Three of Cups)?
How do we maintain creative integrity and invite a synergy of passions towards realizing life dreams (Three of Wands)?
How do we create a sustainable, accountable rhythm of work (Three of Disks)?
And how do we use the mind to heal and realign given misinterpretations, assumptions, or heartbreak (Three of Swords)?
These are the kinds of in-depth questions we will address in writing and discussion.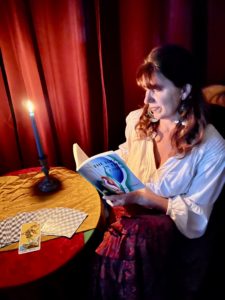 Upcoming related Tarot Events:
Tarot Readings: I will be reading tarot cards from 7-8 pm at the So Say We All's Unalive Fundrive Halloween Party (all proceeds benefit So Say We All) Saturday, October 14.
Sherlock Holmes Through A Tarot Lens: Tea, Tarot, and Poetry: I am super jazzed about my upcoming presentation at  Baker Street West in Jackson, California Saturday October 28, from 1-3 pm (link to event forthcoming). Over tea and cookies, I'll reveal the cards in the tarot deck that correspond to Sherlock Holmes, Doc Watson, and Mrs. Hudson in a presentation celebrating my  memoir-in poems, The Fool in the Corn, and my tarot workbook, Heart's Compass Tarot. More to be revealed!