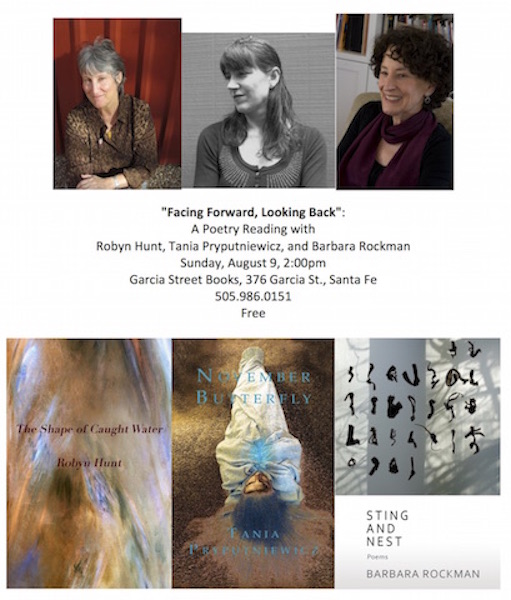 Facing Forward, Looking Back
Poetry Reading with Robyn Hunt, Tania Pryputniewicz and Barbara Rockman
Sunday, August 9, 2:00pm     Garcia Street Books, 376 Garcia Street, Santa Fe      Free
Santa Fe poets Barbara Rockman and Robyn Hunt are joined by San Diego poet, Tania Pryputniewicz, in a reading that will weave three distinct voices.  Sharing a passion for the journeys of family, marriage and poetry's power as renewal through myth and story, the poets will read from collections that transform individual quests to make sense of love, grief, trauma, history and an unsettled world. They will read from their recent books as well as from new work.
Robyn Hunt ran offset printing presses and owned a bookstore in California before returning to her native Santa Fe where she is Development and Communications Director for Las Cumbres Community Services, serving families with social emotional challenges and disabilities. She obtained her degree at California State University-San Francisco and on the streets of that city in the seventies. Her poems resound with the landscape and language, images and rhythms of northern New Mexico.  Robyn blogs at "As Mourning Doves Persist." Of her debut collection, "The Shape of Caught Water," Jimmy Santiago Baca said, the poems, "strum the lyre strings of the heart to conjure olé music."
Tania Pryputniewicz, a graduate of the Iowa Writer's Workshop, teaches a wide range of workshops in San Diego and on-line, including Transformative Blogging; Poetry Forms; Poetry of Motherhood; Poetry of Fatherhood; and Exploring Tarot Through Writing. She blogs at "Feral Mom, Feral Writer," "Mother, Writer, Mentor"and "Tarot for Two." With photographer Robyn Beattie, Tania creates poetry photo montages. Set to music, these micro-movies accompany recent performances.  Her debut collection, "November Butterfly," has received praise as a book that offers "courage to face our shattered and shattering, quotidian and startling lives (Bhanu Kapil)."
Barbara Rockman has taught poetry and generative writing workshops since 1999 when she earned an MFA in Writing from Vermont College of Fine Arts after a career as an arts education program developer and theater director. Her widely published work has received numerous prizes and her collection, "Sting and Nest," received the New Mexico-Arizona Book Award. She is workshop director for Wingspan Poetry Project, bringing writing classes to Esperanza Shelter for Battered Women.  A frequent collaborator with artists, her poems have accompanied installations and exhibitions. Of her work, poet, David Wojahn says, "She has the capacity to wrest celebration from our failings, sorrows, and confusions."
Poetry Exercises Paired with Poems in November Butterfly
When November Butterfly (Saddle Road Press, 2014) debuted, I wrote up some poetry writing exercises using poems in the collection as a springboard; you'll find links to poems by other authors along related subject lines and more. If you're not able to make it to the Santa Fe reading, I hope you'll try an exercise or two and let me know how it goes.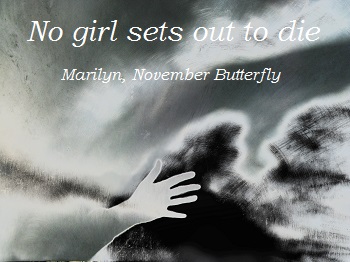 Marilyn, or No Girl Sets out to Die
Sylvia, Is it Sleep or Words You Miss
Amelia, Crossing for the Crossing
Jay DeFeo's Rose, or Stein cursived hers on her ceiling for Alice
Sisters of the Orange, A Tale of Three Oranges
She Dressed in a Hurry, for Lady Diana
Ophelia, Circling Possible Futures and Alternate Endings
Jeanne d'Arc, or It Goes On Still Inside Certain Girls
Latest Review of November Butterfly 
If there is truth to Pryputniewicz's voice, and I believe there is, it is in her search for the beauty to be found in dark places. Certainly her title poem reflects that, as she takes "…a butterfly with a frayed / wing pinned living / to the windshield" and makes the gesture of liberating that wounded yet vibrant creature. It is a liberation of all our wounded selves and our sorrows.–Susan Schoch
Read rest of review here: November Butterfly, Review by Susan Schoch at Story Circle Network
A Room of Her Own Foundation, Summer Retreat 2015
I'll be attending AROHO's 2015 Summer Retreat held at Ghost Ranch this August along with one hundred other women writers. This is the third retreat I've been blessed to attend. This year's theme focuses on "writing against the current;" we will be engaging deeply with Maxine Hong Kingston's Woman Warrior and Virginia Woolf's Orlando. Kingston will in fact be in residence. My copy of Woman Warrior holds Kingston's signature from one of the first poetry readings I attended as an undergraduate English Major at UC Davis. What a gift to be steeped not only in her words, but her presence, again. Below you'll find descriptions for the Studio Hour Workshop and Poetry Tarot Consults I'll be offering at the retreat.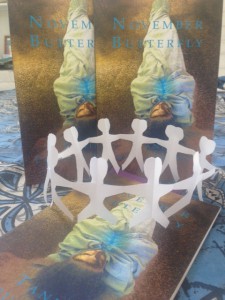 Studio Hour, Writing Through Fear: Free your Butterfly
Which core story, metaphor, or image have you long kept in the cocoon? What would happen if you wrote it out, just for you, before you worried about anyone else reading it? In this dual focus workshop, we spend time considering our female heroes: both the public iconic and private family women who have inspired us with their risk taking and their perseverance. Bolstered by our predecessors and secure in the sanctuary of Ghost Ranch, we will then write our way to the core stories, that up until now, we have kept shielded in the cocoon. A portion of our time will involve exploring the metaphors via paint and paper cutouts (butterflies, paper dolls, and more). Art supplies provided.
Poetry Tarot Consults, What Next? Tarot as Poet's Mirror 
Women writers including Judy Grahn, Kay Ryan, Alice Notley and many others have used the Tarot to inspire their writing and writing process, just as women have created artwork behind several of the most widely used Tarot decks and created, during our lifetime, contemporary groundbreaking Tarot decks. As a poet who has studied the Tarot for over twenty years, I invite you to send a poem you are struggling with along with your most pressing questions.  Hour long consult will be divided evenly between a craft discussion of the poem itself and a Tarot reading focused on the questions you bring to the table. We will use the cards as a springboard to inspire potential next steps.
For more insight about my approach to the Tarot, read the course descriptions for the Tarot Writing courses I teach on-line or visit Tarot for Two where I co-blog with writer Mary Allen.
You might also like