Poetry and prose by Tania Pryputniewicz appeared in print or online at Autumn Sky, Blast Furnace, The Blood Orange Review, Connotation Press, In Her Place, Linebreak, Literary Mama, The Mom Egg, NonBinary Review, Prairie Wolf Press, Salome Magazine, The Spoon River Poetry Review, Soundings East,  Stone Canoe Online, Tiny Lights and Writers and Lovers Café. Recent and forthcoming poetry can be found at Extract(s), Patria Letteratura, and Poetry Flash. Her debut poetry collection, November Butterfly, was published in November of 2014 by Saddle Road Press.
Her collaborative micro movies feature poetry paired with the photography of Robyn Beattie and the music of Stephen Pryputniewicz; She Dressed in a Hurry (for Lady Diana), Amelia, and Nefertiti Among Us were awarded Juror's Best of Show at the 2012 2D/3D visual poetry show held at the LH Horton Jr Gallery at San Joaquin Delta College. Other collaborative projects include prose poetry and a series of micro-readings at Perhaps, Maybe with Liz Brennan.
A graduate of the Iowa Writers' Workshop, Tania is the former Managing Poetry Editor and Art Editor at The Fertile Source and current co-founder of Mother, Writer, Mentor.  She works one-on-one with Tarot students and writers and teaches online and in-person workshops including Transformative Blogging, Poetry, Writing Through Fear, Tarot and Writing: The Wheel of Archetypal Selves, Tarot Deck Making and Poetry of Motherhood and Fatherhood for A Room of Her Own Foundation, Mother Writer Mentor, San Diego Writers Ink, and Story Circle Network. She blogs at Feral Mom, Feral Writer and Tarot for Two and lives in San Diego, California with her husband, three children, blue-eyed Siberian Husky and one tubby housecat named Luna.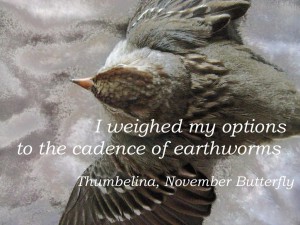 Kindle November Butterfly Offer
I invite you to join me for a hands on poetry prompt celebration for my first book, November Butterfly (Saddle Road Press, November 2014). In support of Saddle Road Press, I'm running a new promotion: When you buy the Kindle version of November Butterfly, I will give away a beautiful 15 page PDF with prompts and images from the poetry movies. The prompts focus on the iconic figures addressed in November Butterfly and come with links to related poetry, poetry movies, and art. It is a beautiful booklet based on the prompts I originally ran one at a time here on this site. I thank you in advance for your support of poetry and your support of small presses.
Here is a link to more details for the free PDF November Butterfly: Thirteen Writing Prompts Based on the Power and Creativity of Iconic Women Designed to Help You Write New Work From Multiple Points of View. 
Thirteen Writing Prompts for November Butterfly and Three Questions
If you are unable to take part in the promotion, you may view the prompts singly, in original blog post format at the links below:
Marilyn, or No Girl Sets out to Die
Sylvia, Is it Sleep or Words You Miss
Amelia, Crossing for the Crossing
Jay DeFeo's Rose, or Stein cursived hers on her ceiling for Alice
Sisters of the Orange, A Tale of Three Oranges
She Dressed in a Hurry, for Lady Diana
Ophelia, Circling Possible Futures and Alternate Endings
Jeanne d'Arc, or It Goes On Still Inside Certain Girls
Transformative Blogging Posts
Here are links to posts I've written in support of the concepts of Transformative Blogging. Below the links, you'll find a shorter version of the initiating statement penned in 2013 at the outset of this project.
Why Your Blog Title Matters: The Ex-boyfriend, The Blogosphere and Why Your Blog Title Matters
Why Your Blog Subtitle Matters: The Oracle at Delphi, Your Blog Subtitle and Three Examples
Writing How To Posts: The "How To" Blog Post, or How Your Meander Creates an Aerial Snake to Remember
Writing Holiday Posts: By The Spell of the Spin, The Human Calendar, Or How  To Write a Worthy Holiday Post
Writing Interview Posts: Interview Post Variations and The Role of Travel Bloggers on Dwellable
Writing Inquiry Posts: Inquiry Posts, Chaucer, and Blogger as Pilgrim
Collaborative Blogging and Synthesis Blogs: Trickster Angels, Collaborative Posts and Synthesis Blogs
Interview with Collaborating Bloggers: An Interview with the Collaborative Team Behind The Science of Parenthood
Writing List Posts: The Attractant Power and Poetry of List Posts
How To Use Images on Your Blog: Imaginal Cells, The Fantasy Astrology Store, and Alternate Histories
Using Letters on Your Blog: Letter Blog Posts: Epistolary Heavens
Interview with Heather Blakey: Blogger as Weaver: An Interview with Blog Mage Heather Blakey
Interview with Two Sylvias Press: The Conjuring of a Poet Tarot Deck: An Interview with Two Sylvias Press
Blog Tour: First Poetry Book Publication, Reckoning with Exposure, and Astral Rubbernecking
Guest Post by Erica Goss: Fairytales, Facebook, and Poetry Prompts with Guest Blogger Erica Goss

Guest Post with Robyn Beattie: The Kiln Has a Vote: Creativity and Risk
About the Transformative Blogging for Women
2013 Year of Inquiry Project
Why Enter the Blogosphere?
I believe writing provides one of the highest forms of connection, transformation, and spiritual, emotional and intellectual play. And the blogosphere, in turn, provides:
1.  a powerful and beautiful venue for presenting one's writing and
2.   a fabulous vehicle for those of us pilgrims—from quiet onlookers to thinkers to mothers to writers to artists to diarists to fill-in-the-blank creatives–looking to grow and connect with others of like mind as we go.
My goal in extending the work I've done privately in my courses with women bloggers is to offer an on-line hub where you'll find weekly posts discussing the diverse ways women bloggers have structured their blogs and blog posts as a means for offering inspiration to you as you prepare to launch or better your own blog. Join me for a look at the role women bloggers are playing in shaping themselves and the blogosphere.
Why Call it Transformative Blogging?
Good question! It took my husband a year to ask. My rebuttal can be read here: What the Heck is Transformative Blogging Anyway or How I Used to Not Sell Vacuum Cleaners.
My serious answer is that any act one returns to repeatedly, with intention and care, has transformative value. Transformation refers to the process by which you, the blogger, carry potential to be changed. And how you might affect change or transformation in others. A mathematical definition for transformation refers to "mapping of one space onto another or oneself."
In my courses we work not only with metaphors of maps and masks but we also make three-dimensional maps and masks as a means of aligning with our goals and intentions for the blog. These kinds of background exercises lay the groundwork for embarking on a tailored, focused blogging schedule and journey.
A more detailed and serious response to the question "Why Call it Transformative Blogging?" can be read here in a two-part interview conducted with writer Edith O' Nuallain: Tania Pryputniewicz on the Art and Craft of Transformative Blogging and On the Art and Craft of Transformative Blogging Part II.
Why Women Bloggers?
My first opportunities to teach blogging arrived through two different organizations devoted to women writers: A Room of Her Own Foundation, and Story Circle Network. When I began to educate myself about the history of blogging, my initial attempts at research uncovered a dearth of writings by men.
In the past, projects for which I attempted to focus on women unwittingly became inextricably bound with men, as one might easily expect, though I was a few heartbeats behind the realization. Two examples come to mind: during my tenure as poetry editor of The Fertile Source, an-online magazine dedicated to publishing artwork and writing on all aspects of birth, labor, and fertility, I began to receive a growing number of submissions from men. So we made the editorial decision to also publish work by men.
I had a similar experience with Mother, Writer, Mentor (our sister site to The Fertile Source created to nurture women writers who also happen to be mothers). As I set out to teach The Poetry of Motherhood (combing through for example poems we'd published by women at The Fertile Source), I kept running across the powerful poetry by the father writers. Which is why I subsequently chose to also teach The Poetry of Fatherhood.