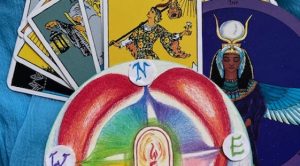 In celebration of National Poetry Writing Month, join me for a 30-Day Heart's Compass Tarot Poetry Challenge course. In addition to the visual prompts of the tarot card of the day, writing prompts pair existing published poems by local, national and international poets with the energy of the tarot card under study (we begin on April 1, registration now open, offered through San Diego Writers, Ink). While I provide tarot card images for your use, you are also welcome to use your own tarot deck/s for this course. Pencil, paper, and open heart are the only materials you'll need.
This class is for you if:
you are tarot curious or tarot savvy
you like to write ekphrastic poetry (poetry based on art)
you wish to create new poetry over the course of 30 days
you want a new twist on National Poetry Writing Month
 You receive:
30 daily prompts delivered to your email inbox that contain:
ekphrastic inspiration in the form of 3 different versions of the same tarot card
interpretations for the cards
an example poem embodying the energy of the card
a prompt for you to write your own tarot-inspired poem
5 sessions on zoom through SDWI including a final evening reading at an "open mic" (come read your favorite poem from the month)
You have the opportunity to learn:
A heart's compass tarot approach to engaging with tarot imagery, poetry, and the writing of your own poems. Tarot cards covered: the 21 Major Arcana, 4 Aces, and Page, Knight, Queen and King of Cups
You come out of the month with:
New poems!
A deeper understanding of the tarot and yourself in relation to tarot's imagery
A deeper understanding of the tarot through the lens of the example poems chosen to illuminate the energy behind each tarot card
A stronger connection to writing community
Course dates:
*Thursday, April 1: Introduction to tarot and writing process, 1 pm PST
Friday April 9: Tarot haiku, 1 pm PST
Friday April 16: Tarot Imagery, 1 pm PST
Friday April 23: Tarot and Sound play, 1 pm PST
Friday April 30: Tarot Poetry Reading, 7 pm PST "open mic"
Course Cost:
$99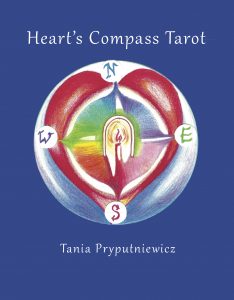 Example poem and tarot card pairings: Tarot cards for which poems appear in my newly released workbook, Heart's Compass Tarot, are easy—already paired—such as those for the beginning of the tarot deck and everyone's tarot journey, The Fool: ruth weiss's "A Fools Journey." And for the internal spiritual guide, The Priestess, we have Rachel Pollack's "The High Priestess." For the radical eye-opener, The Tower we will read Marianela Medrano's "Kali, The Awakener." Past the poems featured in Heart's Compass, I cast my net far and wide into the world to gather poetry by local, national, and international writers, for example: poetry by Judy Reeves for the Moon, Amanda Gorman for the Magician, and Pablo Neruda for the Lovers (and so much more—27-days-worth more, to be exact). I hope to see you there, where tarot and poetry meet, on the field of the heart.
Register here for Heart's Compass Tarot Poetry Challenge
*Paper and pencil are the only required materials; optional supporting materials: Heart's Compass Tarot.
Additional Links of interest:
Tarot Poets of Heart's Compass: A Reading; join us on March 20, 4 pm PST, for a beautiful reading of the poems in the Tarot Poetry chapter of Heart's Compass Tarot (you must pre-register to be on the zoom call with us).
You might also like