I'm overjoyed to share an interview with Loraine Van Tuyl, PhD, author of the spiritual memoir, "Amazon Wisdom Keeper: A Psychologist's Memoir of Spiritual Awakening" (forthcoming from She Writes Press at the end of this month). Van Tuyl anchors us in the physical landscape of her native Suriname, the fertile green and heat a backdrop for her childhood experiences and family lineage of teachings. When Van Tuyl's family moves to the United States to escape the turmoil of the changing political power-scape in Suriname, she endures trials as her deepest visions are challenged by Western models of thinking and various spiritual groups and teachers. Van Tuyl generously speaks about her path to integrating her experiences as a healer, her process as a writer, and how both journeys impacted her as mother in the interview below. Enjoy!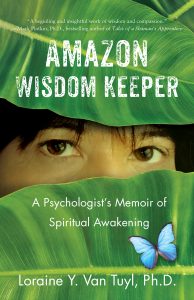 Amazon Wisdom Keeper and Spiritual Awakening: An Interview with Loraine Van Tuyl, PhD
One of the things I love about your beautiful book, "Amazon Wisdom Keeper," is how brave you are in revealing your process of coming to trust your shamanic process despite opposition and obstacles. Where and how did you find the strength to trust yourself? 
Thank you for those kind words. Let me begin by saying that I love this question because trust is such a layered and complex process and skill that I think everyone, but especially healers, seers, seekers and psychics, grapple with as part of their initiation, training and ongoing growth, starting at really early ages. I believe that everything begins and ends with trust in ourselves, soul, and sacred guidance, which directly translates into trusting others, trusting love, trusting adversity in life, trusting nature and the nature of reality and the Universe.
I started to experiment with trust as a child because it made me feel better and less distraught when I got warmer and closer to my truth––not because I'd consciously deliberated that self-trust was an important first stepping stone. There are different kinds of self-trust to develop, depending on one's gifts, and there are also different domains to master.
As an intuitive empath, my strengths and passion have always been in deciphering relational dynamics with souls in bodies using earth wisdom and my own body's natural wisdom and sense of harmony as a template. I could make very subtle and clear distinctions as a young child decades before words like trust, self-awareness, and shamanism entered my vocabulary, usually while daydreaming and wandering in my neighborhood or in the rainforest by myself.
For instance, when my parents were "off," as all parents are from time to time, I tried to sift through an altercation that bothered me and stuck on me like glue. Most of the time their unique imbalances and contributions were as obvious to me as the sky being blue. It was more of a sensual perception that I'd now describe as my mother being too fiery, for instance. I had an intuitive sense that she needed to cool and calm down, and lighten up and be more flexible, like earth, air, and water. My father, on the other hand, was too airy and watery. He needed to stand his ground more and face the heat instead of run off and away from hard feelings, or melt or evaporate into thin air.
Open communication about feelings was a foreign concept in most Surinamese families, including mine, so I kept this information to myself, but felt extremely frustrated and powerless just sitting on it. When I was about 8 or so, I became obsessed with reading and responding (in my mind) to an advice column, similar to Dear Abby, in a Dutch magazine called Margriet. Insights just flowed out of me without skipping a beat. I didn't think anything of it even though I didn't have much of a reservoir of life experience to tap from, but I do remember being aware one time that it was kind of odd that I had advice for a wife of an alcoholic husband even though no one in my direct family dealt with alcoholism. I was drawn to opportunities like this like a magnet and never questioned the information that naturally pulsed through me, caused my heart to beat faster, my pupils to dilate and all of my body to feel alert, alive, and aligned.
It was almost as if I could see a halo above certain events, traditions, people, information, and beliefs as a child that spoke to my soul yet tended not to be noticed or valued as much by others. I felt a calling to protect these experiences and the sacred by keeping them a secret and burying them in my mind like a treasure. I was drawn to freedom fighters and stories about rebel slaves, who planted opposing seeds and ideas in my soul—to liberate others with this info, despite the risks, instead of keeping it a secret.
The self-doubt that developed over the years were several layers out, related to who to trust with this, what to do with it, and how to manage this gift that I knew was out of the ordinary and sacred. I realized that even though my imaginary childhood friends, such as Anne Frank, Helen Keller, and Joan of Arc, were respected and believed as girls, I needed to become "learned" and grow up to accumulate the credibility and power to back up my inner wisdom, not because I necessarily valued knowledge and life experience in their own right or more than my innate wisdom. I was well aware that wisdom could be properly respected in a child, but adults were difficult to convince of that. The irony is that the more educated and knowledgeable I became, the more my inner wisdom felt threatened, revealing to me how adults lost simple and clear connection to their childhood wisdom.
The shorter answer to your question is, I'd incarnated in this life and body with a mission to clear and heal unfinished business, and I was unwittingly preparing for the journey and the unfolding story ahead—i.e. the growing opposition and the cultivation of my corresponding trust, inner strength, confidence, and clarity—for as long as I can remember even though I had no cultural references to explain my impulses and motivations.
In January of 2012, during a kundalini awakening experience that was as intense as an epileptic seizure and rebalanced by a healer playing a room full of large crystal bowls, I had a profound and revelational shamanic journey that involved summoning psychopomp guides and together with the bowls helped the souls of several hundred thousand women who'd been tortured and killed during the dark ages to heal and cross over. Once they did, they went right back in line behind a rainbow bridge where souls were moving in the opposite direction to be reborn on earth to help heal humanity and the planet. My connection to very expansive knowing and guidance fuels me beyond logic, explanation, and the usual stories that most of us are familiar with.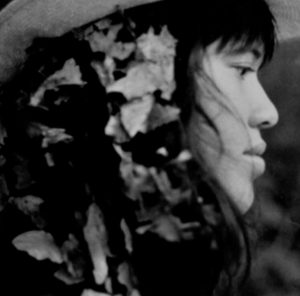 What propelled you to write your story and how did your story find its way to the page?
 My mother often called me "eigenwijs," which had a double connotation. Translated from Dutch to English it means "your own way," as in your way or the highway, but it also means "your own wisdom." Her choice of words were great in helping me frame my struggle — on the one hand, my wisdom came through, which my mother welcomed with a flicker of excitement in her eye, but on the other hand, so did my strong-will and ego-attachments to control the situation and others. I compulsively alleviated my pain with little awareness and regard for how this would impact others, like purging out all of the imbalanced energy that I had unconsciously picked up just to feel better. Jungle Book and imagining to be Mowgli validated my experience that there was a lot of self-inflicted suffering in the human world and offered some tolerable distance from it. The Diary of Anne Frank validated my sense that people were still good at heart, which, amazingly, was enough for me to passionately embrace my daunting mission that was already filtering through in bits and pieces—to challenge big societal adult systems that were asleep and awaken as many people as possible.
Many of my clients now who are able to regress to their early years felt like they didn't belong as soon as they were born. They wanted to go back to where they came from, and resisted being here because of the huge, painful mess that we are in. I discovered that I choose to be reborn here and now in an earthly paradise because of what happened at the end of my previous life, and I relived this major lesson during my first encounter with death in a dream at the age of 8 as a refresher. Around the time of the dream, I was similarly drawn to stories of transcendence, and wanted to operate from my soul and spiritual center and upend the norm. Ever since reading The Diary of Anne Frank, I knew that I wanted to write a book for parents and adults who weren't getting it.
I mostly kept mental notes because we didn't have diaries and notebooks that were used for that sort of "frivolous" stuff, and I didn't learn to write essays until I moved to the US at almost 14, following a revolution in Suriname. I mostly poured my heart out in letters to friends and over time, forgot my early passions and dallied in darkness, then focused on healing and retrieving my old self. I started to re-member what I'd set out to do in graduate school, when my intuition felt devalued. My initial notions of promoting spirituality and the sacred and demoting our rational mind matured and became more refined as I experimented with conveying my message through academic writing, through my dissertation research, by writing about my experience as a phenomenological case-study, and finally, by rewriting all of it as a memoir to reach the largest audience possible.
What would you say to someone in the beginning stages of navigating their own journey of trusting their spiritual journey?
Learning to trust ourselves and our intuitive knowing has instant benefits, such as detecting inconspicuous and confusing psychic bleed-throughs. This is essential for differentiating between our own energy and that of others, hearing our soul's yearnings, protecting our clarity as a channel, and effectively helping our circles and community.
Many sensitive people, artists, healers, writers, and intuitives are born with a porous disposition and pick up subtle nuances in regard to everyday dynamics and places, and perceive messages through their 6th sense from Source and from other realms and other beings, balanced and imbalanced, without realizing it. These messy bleed-throughs often cause confusion and conflict within the self and with others, because of our fear of the unknown and unseen mysteries in life. It's our tendency to personalize all things negative, scary, and unresolved as a reflection of ourselves due to our fragmented Western thinking and tendency to label, categorize and diagnose.
Even if there are aspects that do pertain to our unique selves— our genealogy, our zodiac sign, our enneagram, our cultural conditioning, our ancestral lineage and dispositions, our personality since we were tots, for instance, looking at all of this as situational (recognizing that there is a blank slate deep down that's not unique, and that any other blank slate would have similar reactions and experiences), can be very liberating and reveal where negative self-association, attachments to false stories or blame may be operating without us realizing it. By thinking of all that we are experiencing as situational, we have a little more spaciousness to be curious, to really examine how we are holding, thinking, and feeling about our experiences and life story, have less attachment to it, and more freedom to experiment by doing something creative and totally different with it than we thought was possible.
For instance, we may think we have this debilitating anxiety that runs in the family, that we had our entire lives, that we will never get rid off, etc. etc., and by getting totally detached from it and seeing it as situational, we may cultivate so much self-compassion, courage, and healing love that our preferred but debilitating patterns, choices, and thoughts that rooted the anxiety suddenly surface. We can play around and experiment with creative interventions and different choices in ways we never imagined similar to when we for instance discover that we have only a few months to live and suddenly are able to shed old beliefs and patterns in a heartbeat to make the most of our time left.
As a seeker and mother, I am grateful for the closing chapters in your book in which you show us the way you take your lessons into your mothering and your understanding of how to take strengths from both roles forward. What have you learned from your children and what have they learned from you in the process of writing this book or any part of your spiritual journey?
I again had no words or awareness that this was unusual, but I was connected to an inner mother and a compassionate and divine Great Mother ever since I was a child. It got activated as an intense need to nurture and love when I was around animals but also in regard to myself. My fantasies of writing a book were to educate the adults around me how to better parent me by essentially rebalancing them so they would make parenting decisions that were better aligned with me.
But it wasn't primarily motivated by this because I began to spontaneously mother and parent myself, and was motivated to remother and reparent adults, including my own parents for their own sake, aware that they were lacking some basic building blocks due to their own upbringing. The birth of my children coincided with my own deeper rebirth and helped me to realize that all my earlier experiences thus far had also been in anticipation and preparation for their arrival. They cracked my heart and soul wide open, amplified my capacity to love, and overall accelerated my growth exponentially, which in turn allowed me to heal past life traumas and unresolved issues in them as well as me in ways that otherwise would not have been possible.
In our household today, we are attuned to each other's souls in an intuitive and natural way. I sometimes take it for granted and don't tell my kids about our intentions until they are jarred by what they experience in other settings. I then make it a point to explicitly explain what we are doing differently and why. Our style is very hands-off, which conveys trust in them and in the joy that is inherent in their journey of self-discovery, in their own trials and tribulations. The end result is that we have a very easy and close relationship, even though they are quite strong-willed, passionate, and definitely not without their own challenges, imbalances, and crosses to deal with and work through.
What role do you see writing play for you going forward in your life and/or your professional practice?
Writing is like breathing. It will remain my preferred and favorite form of creative self-expression, outreach, and connecting with other seekers, healers, and women in particular. It is a form of meditation and transformation that not only gives me tremendous joy and moves stuck energy along, but it opens me up to the magical realms. I often experience synchronistic guidance around my writing, and it delights me that this is now rippling out. Early readers are having profound, magical experiences while engaged with my book that is guiding their spiritual journey. I just feel on top of the world with delight and gratitude when I hear that my book evokes many different levels of awakening in them.
I love that your journey challenges existing ideas and approaches to Western psychology. How do you see your spiritual process and your wisdom finding support and application in the United States and in other countries? Do you have a dream for the scope and reach of your work and your ideas?
I'm thrilled that multicultural non-fiction is in great demand in many book-related websites that I visit these days. Because of the times and political climate of today, many hunger for this kind of soul food, knowledge, insight, and guidance. I believe that Amazon Wisdom Keeper can and will deeply satisfy this need. My specialization was in Multicultural Psychology and my cross-national dissertation compared the experiences of multiracial people in the US and Suriname in 1997, which offered me unprecedented data and insights around either-or thinking, paradox, and non-dual wholeness at the level of sophistication found in philosophical discussions among renowned mystics and scholars. This data explained why there is such a dramatic difference in race relations and inner conflict between multiracial people here and there. This wisdom and information fueled the diversity training that I offered on a university campus for a few years.
In my book, I also wrote about a few mythical/lyrical journeys and memories of healing encounters with teachers from my native country later down the road that clarify how and why these clash with conventional notions and practices in the field of mental health. I flesh these out on all levels — from the personal to institutional — through the creative craft and magic that's possible through memoir, deliberately choosing not to write another dry textbook. I would like my book to be enjoyed and sought out by healers, seekers, academics, and students as a springboard for rich discussion as well as by lay people who are being introduced to these concepts and ideas for the first time.
Loraine Van Tuyl, PhD, CHT, holistic psychologist, shamanic healer, and Depth Hypnosis practitioner, is happiest when exploring how the natural world relates to our true nature in healing sessions and retreats, on the page, and in her journeys and dreams. She has guided visionaries, educators, holistic healers, artists, change-makers, and psychotherapists from the Native American Health Center, the UC Berkeley Counseling Center, the Space Clearing Society of the Sacred Stream, and at her private practice, the Sacred Healing Well. She is the author of Amazon Wisdom Keeper: A Psychologist's Memoir of Spiritual Awakening, and is currently designing Awaken your Amazon Wisdom Goddess retreats for women who are ready to unbox, renature, and re-tree-t their denatured, fragmented selves and fully manifest their power and potential.
Additional Links:
To pre-order Loraine Van Tuyl's book or to order it once it is out at the end of this month, visit her website where you will also find a calendar of events, introductions, and additional information about her book. A short video is posted here about Amazon Wisdom Keeper; here is the link to Loraine Van Tuyl's page on Goodreads.
You might also like