Where in your life do you offer the cup of love? And how, first, do you extend love to yourself? Under which circumstances do you experience pure joy and can you imagine inviting more into your life? How can we make such sweet goals specific and tangible? Come write with like-minded writers and seekers looking to connect deeply and listen more closely to the compass of the heart. This class is a beautiful fit for you if you love to journal, love to write, and love to mine your inner and outer worlds for ways to wake more fully to the present. It is a lovely fit whether you are Tarot curious, a life-long Tarot enthusiast, or even somewhere in the middle with your Tarot studies.
The goal for this course is to actively focus on experiences of joy, love, and light. To that end, we will consider the joy cards in the deck: Those Minor and Major Arcana cards that focus on Love, Creativity, Prosperity, Clarity, and Celestial Support. We'll anchor each of our topics with a look at the pure gifts of the deck, also known as the Aces, which are raw bursts of energy in the suits they fall in (earth: physical prosperity; air: clarity of mind; fire: will-fired passion and creativity; and water: love).
During this ten-week course, we will journal to the cards of the week and connect our lived experiences from the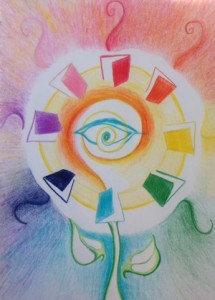 past to the cards as well writing about the experiential, joy-based aspects of the cards we'd like to invite into our current lives. Basically, we lovingly review past and present joy while opening to and inviting new joy into our lives. We leave a paper trail in the form of journal entries and free-writes to Tarot writing prompts.
Every two weeks, before we move on to the next topic, I'll invite you to hone your entries towards finished poems, stories, blogposts, or genre of your choice; you'll receive support for your writing process, and if you desire, specific feedback on work you've chosen for us to look at for you.
Course fee of $475 includes:
weekly email welcome, prompts, and background on the cards of the week under study
access to a private discussion forum
feedback on your revised work
weekly Zoom call with your instructor and classmates
This ten-week course runs from September 11, to November 17, 2017. The specific Tarot cards we will write to and study during this course include:
Weeks 1 and 2, Love: Ace of Cups, Two of Cups, and The Lovers.
Weeks 3 and 4, Creativity: Ace of Wands, 6 of Wands, The Art/Temperance card.
Weeks 5 and 6, Prosperity: Ace of Disks, Ten of Disks, and The Wheel of Fortune.
Weeks 7 and 8, Clarity: Ace of Swords, King and Queen of Swords, and The Magician.
Weeks 9 and 10, Celestial Support: Sun, Moon, and Star.
What Tania's students have to say about Tarot writing adventures:
As a published poet whose writing has plumbed the depths of the symbolic world underpinning the Tarot, and as an illuminating guide and teacher to their archetypal keys, there are few, if any, other mentors of Tania's calibre whose call to follow the threads of meaning will carry you to the spaces within where you have long yearned to go. I recently took Tania's class on the Wheel of Archetypal Selves, and was amazed each week not just at Tania's deeply intuitive responses to my work, but even more so at the places and levels of inner understanding to which she led me. Tania teaches as if she is transporting her students on a magic carpet through the landscape of the Tarot. I cannot recommend her classes highly enough! —Edith O'Nuallain, Ireland
I've taken all of Tania Pryputniewicz's Tarot classes (and two of her blogging classes) and her course materials are always stimulating and inspiring. I've learned to think about the Tarot in a different way thanks to Tania's writing exercises. Tania always makes very insightful and helpful comments. It's a great dialogue—we've learned together. I've learned so much about the Tarot, and about myself through this class. I think some people might be put off by the idea of working with the Tarot, but Tania connects the cards to life and we've had such great conversations about life and love and more as we've worked through the major arcana. —Mary C., Pine CO
Tania Pryputniewicz's knowledge of the tarot and writing and combining the two is incredible. The exercises she sends and the feedback are always right on target and she provides additional exercises for certain topics (as they arise). I still re-read some of her feedback for inspiration. —Lynn W., Irving TX
I loved the materials Tania Pryputniewicz presented and the responses she gave to what I managed to write…I LOVED the materials and the instructor. I will come back to them for some time and they will continue to inspire and inform my writing. —Marsha P., Bala Cynwyd PA